USC Fertility diagnosed and treated mom's endometriosis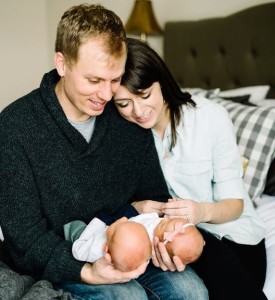 March is Endometriosis Awareness Month, and we hope to reach women with the news that endometriosis is treatable and need not stand in the way of a family. A skilled fertility specialist like Dr. Kristin Bendikson can help diagnose endometriosis and treat both the symptoms and the infertility it may cause.
Endometriosis affects 10% of women of child-bearing years and around half of all women diagnosed with infertility. It's difficult to diagnose and the severity of symptoms doesn't necessarily coincide with the severity of the disease. Those facts don't intimidate the physicians at USC Fertility, though. We like to share success stories such as Kristin's to shine a light for women struggling with the condition.
Q: Tell us about yourself, Kristin.
My husband and I are from Utah and were married in 2009. I'm a portrait photographer and business consultant and I love writing, yoga and baking. After about 5 years of infertility, our IVF with USC Fertility was successful. We are so thrilled to now have boy-girl twins!
Q: When were you diagnosed?
I was diagnosed with severe endometriosis in 2013 after 3 years of seeing multiple doctors who were unable to find the cause of my infertility. I then had two surgeries to remove the scar tissue and reduce the size of two large endometriomas on my ovaries.
Q: How did you find Dr. Kristin Bendikson?
I was referred to USC Fertility by my reproductive endocrinologist in Utah when we moved to Los Angeles. I chose to see Dr. Bendikson after a consultation with her. My husband and I loved working with her!
Q: How did Dr. Bendikson resolve your endometriosis?
Dr. Bendikson was extremely thorough in her exams and testing and found additional issues that other doctors had missed. She worked with me to resolve them quickly so we could begin IVF. We had a small window of time before moving from LA, and she was great at helping us efficiently move through treatments.
From our first visit, I was so impressed with her ability to throughly and plainly describe the problems we were facing with endometriosis, lay out our options and give us her recommendation for moving forward.
I was so grateful to finally have a clear understanding both of my endometriosis and the procedures we were considering based on her explanations. She was always honest and forthcoming about the odds of our success, but also optimistic and enthusiastic about us finally being able to become pregnant.
Q:  What is your advice for others dealing with infertility and endometriosis?
Dealing with infertility is so difficult because so much is out of our control. As a patient, we are limited by our understanding of biology, medicine and procedures. Because of this, I would tell someone in my circumstances to find a fertility doctor who is wiling to educate them and be a true partner in making decisions.
I will always be so grateful to Dr. Bendikson and the others at USC Fertility for their excellent care and for helping us finally begin our family!
Contact us at USC Fertility to schedule a consultation with our team of fertility specialists who resolve even the most complex causes of infertility.