Presenting important oncofertility research at ASRM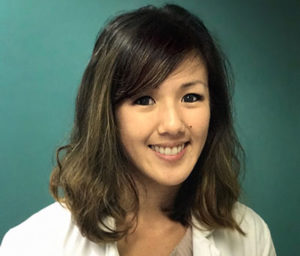 USC Fertility is home to some of the nation's leading experts in fertility preservation. Jacqueline Ho, M.D., a third-year fellow at our Los Angeles fertility center, has a strong clinical interest in fertility preservation for men and women who have been diagnosed with cancer. Dr. Ho will present research about family-building in cancer patients during an oral presentation on Tuesday, October 31 at this year's ASRM. Her work was selected as the recipient of a Prize Paper Award given in recognition of outstanding research.
ASRM offers a wonderful opportunity to share oncofertility research
Dr. Ho and Dr. Karine Chung from our Los Angeles fertility center collaborated with researchers across the country to conduct a nationwide study of more than 200 women of reproductive age who had been diagnosed with blood or breast cancer. The team published its findings in the abstract entitled Factors Associated with Family Building in Cancer Survivors.
According to Dr. Ho, "the goal of our study was to determine how to counsel cancer patients about fertility preservation. Our team looked at fertility concerns and demographic features."
The study found that about 50% of patients were highly concerned about their fertility and likely to take family-building steps such as fertility preservation, fertility treatments and adoption. Additionally, the study concluded that women who had a partner were less concerned about their fertility and more likely to be proactive about family building than non-partnered women.
"These results can help fertility specialists tailor fertility preservation and family-building discussions with women who have been diagnosed with cancer. By sharing these findings at ASRM, our hope is to help physicians provide more effective fertility counseling to patients who are facing a diagnosis of cancer," said Dr. Ho.
USC Fertility provide state-of-the-art oncofertility care
Our Los Angeles fertility center is committed to using advances in the field of reproductive medicine in order to preserve the fertility of men and women who have been diagnosed with cancer. In fact, our fertility specialists even offer fertility preservation for teens who are preparing to undergo chemotherapy.
If you would like to learn more about fertility preservation, please contact us. Our compassionate and knowledgeable fertility experts can help you take control of your reproductive future through elective fertility preservation and oncofertility.