Our Los Angeles fertility specialist stands side by side with women TTC
By Dr. Kristen Bendikson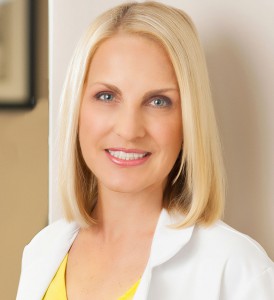 Every year a few weeks before Mother's Day, many women get an early reminder of how lucky they are to be a mom when National Infertility Awareness Week comes around. I am one of those lucky people. I didn't have trouble getting pregnant with my two children. However, as a fertility specialist, I spend most of my waking hours working hard to make other women mothers. So while I personally didn't struggle, I live that struggle every day as I stand side by side with my patients.
I see it. I see the pain that infertility can cause for a woman and for a couple. I see the isolation that infertility enwraps people in. National Infertility Awareness Week reminds those women and couples struggling to have a family that they are not alone.
#startasking a fertility specialist about your reproductive potential
Maybe the existence of this week can encourage couples to share their stories and their journeys with friends and family— and with others—so that they are a little less alone. Maybe it can help others like them to know that they are not alone either.
Infertility affects someone you know. You may not know it. They may not tell you. But given that infertility affects 1 in 8 couples, everyone knowingly or unknowingly has a friend or relative affected by this brutal medical condition. Infertility Awareness Week can bring acknowledgment and recognition to the over 7 million women who have received fertility treatments.
Infertility is a treatable disease
And yes, I called infertility a medical condition because that is how I view it. Infertility is not something that people choose or cause by their actions. This happened to them; they didn't want it. Yet, unlike most other medical conditions, the majority of couples don't have insurance to cover the medical treatment to fix it.
Did you know that insurance for fertility care is only available in 15 out of 50 states?
This week can serve as an acknowledgement of what is missing and to coalesce those groups already fighting for the rights of infertility patients across this country to work together for greater advocacy and to motivate new supporters. Most importantly, educate legislators and those who make the rules. They should know that there is a community of people fighting for the rights of infertile patients and the patients themselves.
Infertility Awareness Week addresses both female and male infertility
Infertility Awareness Week also recognizes that it is not just women affected by infertility and fertility-related issues. Fertility related issues can affect to anyone.
The facts about infertility
This week can also allow for greater education. It is critically important that factual information about infertility and fertility treatments is made available. Incredible websites exist as a resource, like the American Society for Reproductive Medicine's patient site, www.reproductivefacts.org as well as the National Infertility Association's site www.resolve.org.
Just googling infertility can lead to a scary plethora of inaccuracies that can lead to increased stress and confusion. This week will allow infertility advocates to disseminate true facts about infertility—who it affects, its causes and fertility treatments.
Infertility Awareness Week can spread hope
This is a week to share success stories. To recognize the struggle that was endured to get to that happy ending. To remind those in the midst of it that there is often light at the end. To promote optimism, to encourage faith and to engender strength in those that didn't know they had it.
For all of these reasons, National Infertility Awareness Week has purpose. For acknowledgement, education, advocacy, empowerment, comfort and courage.
So this week, join us in spreading the word about Iinfertility as we yet again commemorate National Infertility Awareness Week. Contact USC Fertility and #startasking