One couple's journey through female and male factor infertility
When Allison P. and her husband Albert decided to start a family about three years ago, they couldn't understand why they weren't getting pregnant. Seeking answers, Albert was diagnosed with unexplained male factor infertility, and the couple decided it was time to get help from an IVF specialist in Los Angeles.
As a labor and delivery nurse struggling with infertility, Allison found herself losing the joy she had once felt about helping others bring new life into the world.
"During my long period of infertility, I kind of lost my 'oomph' for the job," she says. "There wasn't the same satisfaction, and I started to feel sad seeing other people having babies when we couldn't. It was hard."
Like many couples seeking fertility treatment, they wanted to find the best specialist they could to help them make their dream of a baby come true.
"We went to several REs because we wanted to find a good fit for us," Allison recalls. "We were looking for experience, but also the right personality. A friend who had done two successful IVF cycles told us about Dr. Chung at USC Fertility, and we just fell in love with her. Dr. Chung took the initiative to do a complete work-up on me, and that was when we found out that I have endometriosis and poor egg quality."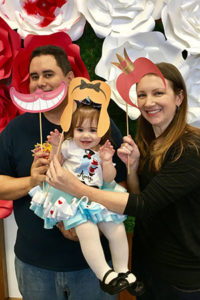 That diagnosis, combined with severe male factor infertility, meant that the couple's best chance of having a baby was IVF with intracytoplasmic sperm injection, or ICSI – a procedure in which fertilization is achieved by injecting one sperm directly into each egg retrieved through IVF.
A special procedure for male factor infertility
For most couples who need IVF, producing a sperm sample is simple. But in some cases of severe male factor infertility, a special procedure is needed to harvest sperm for ICSI. In testicular sperm extraction, or TESE, a specialist uses a fine needle to extract sperm directly from the testicles in an outpatient procedure. Our IVF specialist in Los Angeles has helped many patients achieve pregnancy with only a few sperm.
"When we went in for TESE, the specialist couldn't find sperm on the right side at all, and I had already been through nearly the entire IVF process, so that was kind of scary," Allison says. "The doctor said she was thinking, 'I hope we have sperm to work with,' but then she went in the other side and extracted what she could."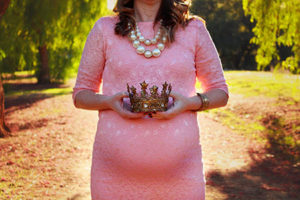 Despite the couple's severe male factor infertility, the specialist was able to extract enough sperm to fertilize Allison's eggs, resulting in five embryos for transfer. While the first transfer of three embryos did not result in pregnancy, Allison became pregnant with a baby girl on the second transfer of two frozen embryos.
"The technology and science behind these procedures are miraculous," Allison says. "If we hadn't been living in this day and age, we might not have had kids at all. It is such a big blessing."
The entire team at USC Fertility celebrated with the couple when they moved on to the care of their OBGYN, hosting a "graduation party" with hats, balloons and cupcakes.
Though Allison developed gestational diabetes during the pregnancy, she was able to control the condition through a strict diet, and the couple's daughter was born at 39 weeks, healthy and weighing 6.5 pounds. Today, she is 15 months old and the light of her parents' lives.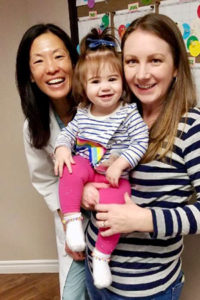 Completing the family
After taking off three months to care for her newborn, Allison is now back at her job in labor and delivery with a fresh perspective.
"I'm so much happier now," she says. "The experience of going back to my job, having had a child, is like night and day. I'm able to enjoy being on the other side. We went into this thinking it would be so easy, but we found out that so many people struggle with infertility. Unless you've walked in those shoes, you don't have a clue what it's like."
At 38, Allison and Albert are starting the IVF process again in hopes of giving their daughter a sibling. They expect to once again need TESE to overcome male factor infertility.
"I'm not going anywhere else but USC Fertility," Allison says. "We felt like we were their one and only patient, and they went above and beyond every time. There were never any questions or concerns left unanswered. No matter what time or day of the week, Dr. Chung always responds personally, and the staff is the same way. Everyone puts in extra effort to make sure we feel special."
Contact us if you would like to schedule an appointment to learn how our physicians can help you grow your family.