About the Division of Reproductive Endocrinology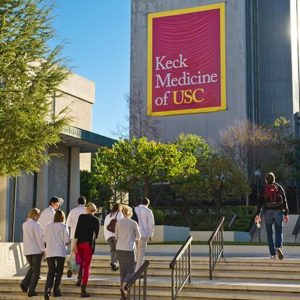 The Division of Reproductive Endocrinology (REI) provides medical care to couples and individuals who need assistance to conceive, and to those who experience disorders of the reproductive endocrine system. Our board-certified physicians specialize in the treatment of ovulatory disorders, polycystic ovary syndrome, menopause symptoms, and all forms of infertility, including the treatment of those who require assisted reproduction in order to conceive, such as single parents and same sex couples. The program for Assisted Reproduction is known internationally for its contributions in the areas of oocyte donation, embryo implantation, and novel methods of ovarian stimulation. Assisted reproductive care is provided in the Pasadena office which houses USC Fertility, affiliated with HRC fertility, a large private practice entity with multiple offices throughout Southern California. Reproductive endocrine disorders are managed at USC Fertility as well as at the REI clinic at LAC+USC medical center. Members of the Division are experts in all aspects of reproductive endocrinology and infertility, and have been listed in publications such as, "Best Doctors in America," and "Best Doctors for Women."
Research
Research in our division includes both clinical and basic sciences, with a wide range of potential sources including the USC-HRC Fertility Clinic, LAC-USC County Clinic, the new USC-HRC Reproductive Sciences Lab, the Oncofertility and Molecular Reproduction Lab at USC Norris Cancer Center, and the USC Keck Hospital, as well as basic science labs across the USC campuses.
Endocrine Research Laboratory: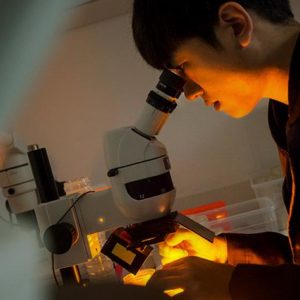 The USC Reproductive Endocrine Research Laboratory, which is now part of the USC-HRC Biological Sciences Laboratory, has been recognized nationally and internationally for its expertise in measurements of steroid, peptide, and protein hormones in serum/plasma. The lab is also known for its expertise in measuring sex steroid hormones in a variety of tissues (endometrium, genital skin, breast, prostate, and brain) and for its studies on metabolism of steroids using in vitro incubation experiments. The lab director, Frank Stanczyk, Ph.D., is a member of the national committee on standardization of steroid hormone assays (Partnership for Accurate Testing of Hormones, PATH), and has been a participant in the Sex Steroid Assay Task Force, sponsored by the Endocrine Society. Dr. Stanczyk is a past recipient of an outstanding researcher award from the American Society of Reproductive Medicine (ASRM) and the International Menopause Society (IMS). Of particular importance is the lab's emphasis on individualized training of fellows in lab techniques used in their research projects.
The lab has contributed to the following areas of science: metabolism and pharmacokinetics of estrogens and progestogens used in the treatment of postmenopausal women and for contraception; different routes of administration of estrogens, progestogens, and androgens; impact of aging on pharmacokinetics and pharmacodynamic effects of hormonal therapy in postmenopausal women; alternatives to traditional hormonal treatment of postmenopausal women, including "bioidentical" hormones; the role of steroid hormones in the etiology of breast and prostate cancers, as well as in Alzheimer's disease; insulin receptor defects and markers of adiposity in polycystic ovarian syndrome; androgenic markers in hyperandrogenic women with clinical manifestations of hirsutism and acne; and steroid hormone and AMH assay methodology.
Oncofertility and Molecular Reproduction Laboratory:
This laboratory is located within the Norris Cancer Center, and uses animal models and cell culture to study the effects of long-term chemotherapeutics on future reproductive outlook for cancer survivors.  Our current funding includes a Wright Foundation grant to study the effects of long-term tamoxifen treatments on the ovaries and uterus to determine whether the tissues recover normal function after tamoxifen withdrawal. New studies include the effects of androgens on the ovary, the functions of glycosylation of follicle stimulating hormone, and the possible role of olfactory receptors on ovarian cancer in females with BRCA1 mutations.  We are also working in collaboration with a small company for the development of an ovarian perfusion system that would create a way to test chemo-toxicity on the ovary in vitro.
USC-HRC Reproductive Sciences Laboratory:
This is a new research collaboration between USC and HRC, with new research space in Pasadena.  The lab has two sections, including Dr Frank Stanczyk's reproductive endocrine research and Dr Lynda McGinnis' culture and gene expression laboratories.  These research labs work closely with the USC-HRC Fertility clinic.  The labs include equipment for hormone extractions and endocrine assays, as well as Real-Time PCR, embryology-grade incubators, microscopes, micromanipulators, and computer imaging systems.  These new labs will greatly enhance our research on follicle dynamics and embryo growth.
Research at LAC-USC:
Ongoing research at LAC-USC includes multiple menopausal studies on hormone replacement therapy.  In particular, the 3rd NIH grant involving our REI Division members is presently recruiting patients for a 3-year study.  The purpose of the study is to determine whether the protective effect of estrogen replacement on the progression of atherosclerosis in menopausal women, previously demonstrated in many of our trials and others, is diminished when estrogen is coupled with a progestin that has strong antiestrogenic activity.  This study is being done in collaboration with the Atherosclerosis Research Unit.  The advantage of this specific progestin is that its antiestrogenic action may be linked to an overall lowered risk of breast cancer in users. Our county REI Clinic continues to be a substantial source of data for abstracts and papers for our fellows and residents.  This can either be done by analyzing the current clinic records or setting up new prospective randomized trials and organizing teamwork among rotating clinic teams.
Training and Education
Reproductive Endocrinology/Infertility Fellowship Program
The Reproductive Endocrinology/Infertility Fellowship Program at LA County + University of Southern California encompasses 36 consecutive months spent exclusively in Reproductive Endocrinology and Infertility (REI). The program has a total complement of five fellows, accepting one new fellow every third year and two new fellows during each of the other two years.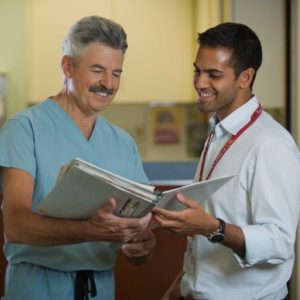 There are two different clinical rotations that each fellow undergoes several times throughout the course of the fellowship: REI Clinic at the Los Angeles County+University of Southern California (LAC+USC) Medical Center and the IVF Program at USC-HRC Fertility (the private office of the reproductive endocrine faculty). Approximately 50% of the fellowship is spent doing research, with the whole of the second year dedicated to protected research time and an additional 6 months allocated to research/elective. During the latter rotations, fellows complete research projects and participate on a part-time basis in Medical Endocrinology, Pediatric Endocrinology, and Embryology. Each year is divided into 4 blocks, each of which is about 3 months long. The program is designed so that the fellows spend 50% of the fellowship on clinical rotations and 50% on research:
Protected Research: 12 months (4 blocks)
Research/Elective: 6 months (2 blocks)
REI Clinic at the LAC+USC Medical Center: 6-9 months (2-3 blocks)
IVF Program: 9-12 months (3-4 blocks)
We expect to increase the fellowship complement to a total of 6, with 2 fellows in each year. When this occurs, the clinical experience will be 6 months in the REI clinic at LAC+USC and 12 months on IVF.
The REI clinic at LAC+USC Medical Center is the referral clinic for multiple outpatient clinics within the network of the Los Angeles County Clinics, and therefore complicated endocrine patients as well as infertility patients are seen and evaluated here. The REI fellow is the primary surgeon for all infertility-related surgeries, with faculty supervision and mentorship. The service has a dedicated OR day per week. Since there is no IVF available to patients at the clinics in the county system, fertility treatment consists of workup, ovulation induction, and IUI.
The 2nd year of the fellowship is devoted to protected research time. The fellow is assigned to one of the research labs (e.g., the Stem Cell institute, USC-HRC Reproductive Sciences Laboratory, etc.), which focus on translational and basic science research. Fellows are also able to work on clinical projects. The fellow completes the IRB process, executes the study, analyzes the data and submits the abstract to one of the national meetings.
The 3rd year of the fellowship is spent either rotating at USC Fertility for their ART rotation or on a research rotation. The clinical experience focuses on advanced infertility treatments and ART, in addition to solidifying the basic concepts of reproductive endocrinology and infertility. The fellows participate by performing many of the monitoring ultrasounds and other diagnostic evaluations, and by assisting with oocyte retrievals and embryo transfer procedures. During the ART rotation, fellows have time in the afternoon most days to continue to work on research projects. On their research rotation in the second half of the fellowship, their focus turns towards analysis of data, preparation of manuscripts for publication and completing requirements for their thesis.
Accreditation
The Los Angeles County + University of Southern California fellowship program is aligned with the educational guidelines set forth by the American Board of Obstetrics and Gynecology and is accredited by the American Council for Graduate Medical Education (ACGME). Individuals completing this three-year training program eligible for sub-specialty certification established by the Division of Reproductive Endocrinology/Infertility of the American Board of Obstetrics and Gynecology.
Eligibility
Applicants for the reproductive endocrinology and infertility fellowship must have completed an ACGME-accredited core program in obstetrics and gynecology. In addition, applicants must meet all requirements for eligibility set by the LAC+USC Medical Center Office of Graduate Medical Education. Every fellow must have a California medical license by the beginning of the fellowship training program. Licensure in the State of California for international medical graduates can be especially time-consuming. If assistance is needed, candidates are advised to contact personally the Division of Licensing, Medical Board of California, 1426 Howe Avenue, Sacramento, California 95825-3236, (916) 920-6411.
Application Process
Application: Please submit your application using the Electronic Residency Application Service (ERAS) found here: www.aamc.org/eras by the listed deadline on ERAS. In addition, please apply to the National Resident Matching Program (NRMP) to participate in the Match by visiting: www.nrmp.org.
Application requirements: An ERAS application and at least three letters of recommendation. In addition, CREOG scores should be emailed to the program coordinator at diane.quan@med.usc.edu.
Interviews: Interviews will be held by invitation only in the fall.
Contact
Fellowship Coordinator:
Diane Quan
E-mail: Diane.Quan@med.usc.edu
Phone: (323) 409-3026
Associate Program Director:
Joie Zeynep Guner, MD, MSc, MSCI
E-mail: joie.guner@med.usc.edu
Program Director:
Richard J. Paulson, MD
E-mail: rpaulson@med.usc.edu
Patient Care
The division of Reproductive Endocrinology and Infertility offers a full range of services in its academic practice sites, providing state-of-the-art care to ART patients in a personal office-based setting. The following are some of the areas for which consultation may be sought:
Basic infertility work up
In vitro fertilization (IVF)
Intra-cytoplasmic sperm injection (ICSI)
Surgical sperm extraction (MESA, PESA, TESE)
Pre-implantation genetic testing (PGT)
Oocyte donation
Gestational surrogacy
Hormone replacement therapy
Pelvic surgery
Myomectomy
The USC physicians are experts in all aspects of Reproductive Endocrinology and Infertility. Some of the diagnostic categories are listed below:
Female infertility
Male infertility
Endometriosis
Menopause
Ovulatory disorders
Polycystic ovary syndrome (PCOS)
Premature ovarian insufficiency
Recurrent miscarriage
Tubal factor infertility
Uterine anomalies
Fertility preservation services
Transgender medicine
LGBTQ+ services
Low-cost IVF
In addition, we have collaborations with the following USC clinics: the Turner Syndrome clinic and the Gender Affirming Care program.