Egg freezing stops the biological clock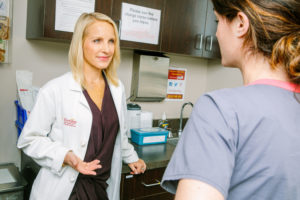 Age negatively impacts a woman's egg supply, with the quality and quantity rapidly deteriorating after age 35. With egg freezing, a woman can serve as her own egg donor when she is ready to conceive later in life.
Until recently, egg freezing has been relatively rare as few practices have the experience or capability to offer this service. At USC Fertility, however, we have both the experience and the capability.
Women may opt for egg freezing for several reasons.
She will undergo cancer treatment, chemotherapy or radiation that will affect the pelvic region.
She wishes to delay family building for personal reasons.
She prefers to avoid freezing surplus embryos after an IVF cycle.
Innovating egg freezing techniques and applications
USC Fertility has successfully offered egg freezing since 2004, achieving more live births than any other program on the West Coast.
USC Fertility is an academic fertility center affiliated with the Keck School of Medicine. We have established a Fertility Preservation Program that offers men and women access to physicians and laboratory professionals at the top of their fields. Egg freezing is an essential element in fertility preservation, and in 2012 became an established fertility treatment thanks to breakthroughs in the freezing and thawing process.
We moved from a slow freeze protocol to fast freeze, or vitrification, along with industry leaders in reproductive medicine. Vitrification virtually eliminates the risk for ice crystals forming in the egg during the freezing process. This is important because the female egg cell is primarily made of water.
To date, more than 5,000 babies have been born from frozen egg cycles. At our Los Angeles fertility center, results have been promising. Of the women who have partnered with us for fertility preservation, and then returned for a frozen egg IVF cycle, 65 percent achieved successful pregnancies.
You likely have questions about egg freezing
Guiding women through the egg freezing process has given us opportunity to learn what questions will arise. We understand the concerns you have about the process, the risks and the expectations for a successful outcome.
Our experienced and compassionate fertility specialists devote their time and attention throughout the process. As you begin to explore the possibility of egg freezing, we encourage you to access our Frequently Asked Questions page.
If you wish to read further, the experts at USC Fertility are frequently asked to contribute to infertility topics on mainstream news outlets such ABC News, WebMD and Good Morning America. One such segment features Dr. Richard Paulson addressing the increase in egg freezing at U.S. fertility centers.
You can feel confident in the success, experience and longevity of our egg freezing program at USC Fertility. Contact us here to schedule a consultation at our Los Angeles fertility center, part of the Keck School of Medicine.