Birth of Baby With Three Parents' DNA Marks Success for Banned Technique
By GINA KOLATA SEPT. 27, 2016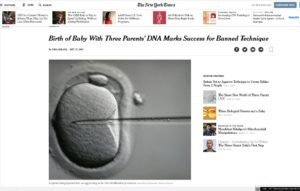 A sperm being injected into an egg during an in vitro fertilization procedure. Credit Jean-Paul Chassenet /Science Source
A few months ago, after a fertility procedure at a Mexican clinic, a healthy baby boy was born in New York to a couple from Jordan. It was the first live birth of a child who has been called — to the dismay of scientists who say the term is grossly misleading — a three-parent baby.
"This is huge," said Dr. Richard J. Paulson, president-elect of the American Society for Reproductive Medicine, after the birth was reported on Tuesday.
Read the article here>>