Gestational surrogacy is used in cases where the woman is unable to carry a pregnancy to term.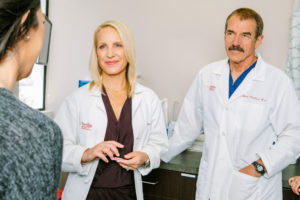 The term "gestational surrogacy" refers to a treatment process, in which another woman ("gestational surrogate") undergoes the embryo transfer process, and then carries the pregnancy to term. The intended parents are involved with the pregnancy, are typically present at the birth, and take over parenting responsibilities immediately thereafter.
From a medical perspective, the process of gestational surrogacy is identical to egg donation/recipient treatment cycles. The only notable difference is that the gestational surrogate becomes the "recipient". Gestational surrogacy may be achieved with the intended mother's eggs, or with an egg donor. Analogously, the sperm can come from the intended father or from a sperm donor. Other in vitro fertilization (IVF) procedures (such as ICSI or PGT) can be combined with gestational surrogacy.
The gestational surrogate is always known by the intended parents (never anonymous like egg or sperm donation). The gestational surrogate can be obtained from a surrogacy agency or can be someone you know, either a close friend or relative. In this scenario, the nurse coordinators at USC will arrange for all the necessary screening. All gestational surrogates need to undergo blood tests, medical evaluation, uterine evaluation, genetic screening and psychological screening. Choosing a gestational surrogate is very similar to choosing an egg donor in that the agency will provide you with a group of profiles of potential surrogates for you to review and consider.
USC Fertility works with a number of reputable surrogacy agencies and will be happy to refer you to any one of them.
For all treatments requiring gestational surrogacy a lawyer specializing in reproductive
law will need to be consulted and a formal legal contract will need to be signed.
Since the medical process is identical to egg donation, please see Egg Donation: Basic Principles and Egg Donation: Cycle Details for more detailed information about gestational surrogacy. If you live outside the Los Angeles area, read our information for Out-of-State and International Patients.