Dr. Richard Paulson Referenced on Good Morning America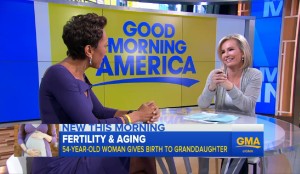 Last week in Texas, a 54-year-old woman gave birth to her daughter's baby, serving as a gestational surrogate and enabling her daughter to finally move past infertility to become a mother. The news anchor covering the story interviewed ABC's chief women's health correspondent, Dr. Jennifer Ashton, who emphasized a conversation she had with USC Fertility's Dr. Richard Paulson, one of the world's leading experts on advanced maternal age:
"Last night I spoke with the chief of infertility at USC and he said, for women under 55, as long as there are no medical problems, they really do pretty well."
For a limited time, watch the clip here:
Pursuing Pregnancy as a Woman of Advanced Maternal Age
The American Society for Reproductive Medicine published a fact sheet on Advanced Maternal Age, citing research by USC Fertility Director Dr. Paulson several times throughout, and states that women under the age of 55 can successfully carry a baby to term with the help of donor eggs.
Having access to frozen eggs and embryos prolongs the reproductive life of a woman with a sound uterus and no underlying health conditions, and the ethics committee issued an opinion about the fertility treatment, stating:
"[The committee] believes that some women over the age of 50, particularly in the age range of 50–54, who are healthy and well-prepared for parenting, are candidates to receive donated eggs."
Of course, fertility specialists counsel women about the risks involved and recommend single embryo transfer to avoid the chance for multiple births.
Donor Egg Cycles Renew Hope for Some Infertile Women
One of the studies conducted by Dr. Paulson, published in the Journal of the American Medical Society, followed 77 post-menopausal women who underwent IVF with donor eggs.
There were 55 clinical pregnancies and 45 live births. In the study, Dr. Paulson concludes that for women without underlying health conditions, "there does not appear to be any definitive medical reason for excluding these women from attempting pregnancy on the basis of age alone."
In the Good Morning America story, Dr. Ashton reiterates that although women of advanced maternal age fall under a high-risk medical category, "This specialty of obgyn can be such a happy field."
Contact us at USC Fertility to schedule a consultation with one of our world-renowned reproductive endocrinologists and a team known worldwide as experts in advanced maternal age fertility treatments.