USC Fertility is home to Leslie Oldham NP, an experienced and caring nurse practitioner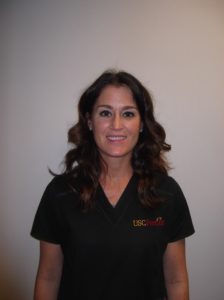 Women and men can find a compassionate and knowledgeable partner in fertility care when they visit Leslie Oldham NP. This nurse practitioner decided to focus her career on reproductive medicine after watching several close friends and family members face infertility. "I've seen that infertility can take a physical and emotional toll. I'm here to provide support and guidance to patients as they go through fertility treatments."
When Leslie saw an opening for a nurse practitioner at our Los Angeles fertility center, she was excited to apply because the center "has an excellent reputation." Once she met the doctors and saw their commitment to their patients, she knew she had found where she wanted to work. "The doctors [at USC Fertility] are personally invested in their patients. They take on the hard cases and strive to get the best outcomes for each patient."
Leslie Oldham NP has an impressive background
After a successful career in sales, Leslie Oldham NP went back to school to pursue her passion for medicine. "I always knew that I wanted to work in medicine, so I went back to school to pursue a nursing degree as soon as I could."
After earning her Bachelor of Science in nursing from The Ohio State University, our nurse practitioner moved to California to earn her Master of Science in nursing from the University of California, Irvine. While attending school for her master's degree, Leslie worked part-time as an acute care nurse. This role gave her valuable patient care experience that she has been applying at our Los Angeles fertility center since she started in November 2015.
Working side-by-side with patients
The best part of the job for Leslie Oldham NP is working closely with patients to guide them through the process of having a baby with fertility treatments. "It's so rewarding to walk with patients on their journey and celebrate with them when they learn that they're expecting."
When Leslie isn't supporting her patients, she likes running, enjoying the beautiful California weather, being a "foodie" and spending time with her husband and baby daughter.
Contact us to schedule an appointment at USC Fertility. Leslie Oldham NP and the rest of our team look forward to guiding you on the path to parenthood.
Dr. Richard Paulson talks about ASRM 2015 and new fertility technology